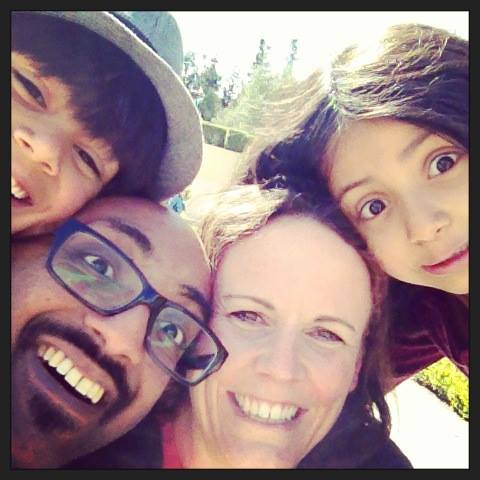 I am the mother of two children, aged (as of 2014) almost 9 and 7 years. I am also married to an amazing partner who helps me along the way, and I him. We have our moments, as all families do, and we don't ever pretend to be perfect!
You will note that the image of my family's feet appears extensively across the website, that's deliberate. I believe that this parenting "thing" is a journey, not a destination. It's a journey we are always on, whether our children are with us or not our existence as a parent never changes. The view might, but the fundamental state of being a parent never shifts. We can choose to take some people on the journey with us, and leave others behind, but our parenting path is one which we must walk ourselves.
I came to parenting education, to family coaching, through many different pathways. I started life out as an eager young thing, and completed a Bachelor of Arts degree in English and Women's Studies. All through my life I have had an active and passionate interest in social justice issues. I continue that passion through the sister website to this one, Parenting for Social Justice.
After I obtained my degree I went working, that so-called "real world" experience. I got some corporate scars, spent a few years working in London in the UK, and then came home pregnant with our first child.
That awakening of the "parent" within, the mother, was a turbulent time for me, and I experienced postnatal depression. With the love and support of my partner and finding my social justice advocacy heart again, I picked myself up and found my feet. I began to devour every piece of parenting material I could get my hands on. I volunteered for our local Parents Centre and spent a long time volunteering.
It was within Parents Centre where I received training to run their Conscious Parenting programs, programs which I run through local Parents Centres. In 2011 I developed my own Parenting course in response to the research I had been undertaking, and in response to the parents I had encountered over the years. The Purposeful Discipline program was born. Combining years of experience as a parent, parenting educator and facilitator, this program brought together elements of peaceful parenting, neuroscience, psychology and down to earth examples which often challenge current parenting norms. Over the years I have held classes for hundreds of parents with very positive feedback.
During this time of parenting discovery I completed my Graduate Diploma in Psychology, undertook contract work with the New Zealand College of Midwives and was a member of the board of the Postnatal Distress Network Trust, now called Cherish (insert hyperlink). More recently I have trained as a Youthline phone counselor and now regularly undertake volunteer shifts with them.
I have worked both formally and informally with parents over the last eight years. My experience as a Family Coach is drawn from my research, my own experience, and years of working with parents. I look forward to working with you and your family, no matter your concern.